This Is What It Meant To Us...
"Profit Partners was exactly what I needed!  Fantastic! I'm now clear on what was preventing me from taking my business to the next level.
One of the early exercises even led me to selling my house and buying a new home that matches me and my success.  Now my family and I are moving into our dream home. It's not only my business, but also my life is lining up to be a real reflection of me, who I am and what I deserve.
I now have real tools that I can actually use. And, now that I'm using those tools, it's awesome how quickly things have turned around.
If you are considering Profit Partners, stop and just say yes. Bet on yourself. Invest in yourself. Deberah will help you set more fully into your potential."
~ Dacia Coffey, CEO, Blender
"Profit Partners was life changing.
I'm a different person now because of Profit Partners. I expected it to be about growing my business and it was that. But it was so much more.
My biggest business breakthrough – goes back to me personally. And because of that, new business has come in. New opportunities and appointments are showing up.
Working with other high level business owners has been invaluable. They've given me ideas that have really filled in a lot of very important things for me.
Before Profit Partners, I wasn't excited about my business, like I was in the past. I wanted something that would help me get that back. Profit Partners did that. Now I realize I can do anything."
~ Jeff Kozik, CEO, JLK Systems Group, Inc.
Promises A Lot. Over Delivers!
"Before Deberah, I didn't believe I deserved wealth.  I thought I wasn't good enough. I fully embraced everything she had to teach me from messaging to sales to quantum physics. I experienced "The Shift" …then my company did! Deberah helped me clear away those fears and beliefs. I immediately felt better.  Within days, I created $298 million.
Ultimately, we increased our revenue $602 million in 12 months using Deberah's Power of 3 Formula.
She promises a lot and over delivers. With Deberah's help, we have seized the leadership position and we now own our market.  A feeling of excitement and success permeates everything we do."
It's very exciting!  I will forever be grateful!"
~ Nadia Zaal, CEO, Zaya
Profit Partners™
Exclusively for High Level CEOs and Entrepreneurs
Is Profit Partners Right For You?
Are You Right For Profit Partners?
Profit Partners is a very intensive Master Mind program, with a maximum of 6 - 8 members. Each participant is hand selected based on their level of business experience and their personal and professional backgrounds. Each member is expected to contribute at the highest levels to other members of the group. This gives each Partner the opportunity to live at the highest levels of their business game in addition to recieving direct benefit both from Deberah's intensive and highly profitable business training as well as other member experts.
So that we can ensure the highest quality, each Profit Partner is individually selected and personally invited to participate.
The same exceptional strategies, including Deberah's "Secret Sauce" that her $40,000 / month VIP clients receive, without the exceptional price tag!
This program is not for slackers or whiners.
**Please Note: This program will close when the first 6 to 8 participants are accepted.
Reserve your spot by requesting your interview now. 
"The real value of a Master Mind is about learning to think way bigger than you could have on your own. It's about peering into the core of someone else's business and realizing that there are others out there who are exactly the same flavor of crazy as you and are not just making things work, but are making millions from the effort. A Mastermind is one of the fastest ways to grow your results: more money, more time, more success. 
PAYING for a Mastermind is a really good filter. It ensures that people are personally invested."
~ Jay Fiset, Mastermind to Millions
"Being in a mastermind will truly give you a Master Mind!
You can't help but think bigger and stretch beyond your boundaries when surrounded by amazing people doing amazing things.You'll be part of an exclusive community.
Joining a mastermind typically involves you being invited by the members or going through an application process. The other members need you just as much as you need them, so quality of experience and knowledge is crucial to all involved."
~ Forbes
"Formal education will make you a living; self-education will make you a fortune. 
You are the average of the five people you spend the most time with. Don't join an easy crowd; you won't grow.
Go where the expectations and the demands to perform are high.  
If you really want to do something, you'll find a way. If you don't, you'll find an excuse."
~ Jim Rohn
"No individual may have great power without participating in a Master Mind.
Men take on the nature and the habits and the POWER OF THOUGHT of those with whom they associate in a spirit of sympathy and harmony.
Analyze the record of any man who has accumulated a great fortune and you will find that they have participated in a Master Mind Group.
No two minds ever come together without creating a third invisible, intangible force...a third mind."
~ Napoleon Hill,
"Think And Grow Rich"
This Results Driven Program Includes:
YOU. In control. Your business and your life.

Your life is meant to be easy, joyful, abundant and fun! Why isn't it? Learn the formula for creating massive wins in business and life.

Learn The REAL Secrets To Mastering Business Success

7 Transformations to change your business and your life.

Deberah Understands. She's Been Where You Are.

"Being the CEO of a company can be very lonely. There are few people to talk to about strategy and overcoming challenges.  My first CEO position was with a failing company that was circling the drain. I couldn't talk to the employees about how bad it was. The Board of Directors was off limits.  And I certainly couldn't talk to other CEOs in the industry about the dire straits the company was in. I'm in a Mastermind even today…some 20+ years later" ~ Deberah Bringelson

Real Help - From 1 of the Most Profit-Producing Business Growth Experts in the world.

Deberah Bringelson uses Quantum Physics to grow businesses…and help clients create great lives.  She has spent more than 30 years perfecting her special brand of business growth and empowerment expertise. In this groundbreaking program, you're in the "Success Seat" not just learning, but experiencing and using the same tools and strategies that companies all over the world have used to grow 100% to more 3,546%.
All Business Growth Intensive Classes
All Business Growth Intensive Bonuses
100% Credit for Business Growth Intensive purchase
12 - 90 Minute Sessions
60 Minute Consultation with Deberah (first 3 only)
Website analysis by Deberah
3 Piece Marketing Material Review by Deberah
More Money Less Stress - Turn Your Passion Into Profit
5 Vital Secrets You Must Know To Master The Science of Creating (not available for purchase anywhere)
Email support from Deberah
Private Members Forum
Transform Your Business and Your Life!
Frequently Asked Questions
1. I already paid for the Business Growth Intensive™!
Congratulations! GREAT News!  We reward people who are smart enough to invest in themselves! If you are accepted into Profit Partners™, we will credit back to you 100% of the cost of the Business Intensive. AND... you will have full access to all Busines Intensive materials, meetings, and support...at ZERO additional cost.  You will get both programs for the Profit Partners™ discount price.
2.
 Why do you ask about my revenues?
Businesses of different sizes often need different tools.  If you are building a skyscraper, you will need tools appropriate to a skyscraper, which are different than what are needed to build a 2 story structure.  The same is true for your business.
Knowing about your business, size, revenue and growth allows me to know how to make the most of your 45 minutes and whether Profit Partners™ is a good fit for both you and the other Profit Partner™ participants.  
3. What if my website is out of date?
No worries!  That is often the case.  Make sure you give me the link to the site, so that I can do some thinking about how to make it better.  It's much better to talk now about how to maximize this tool, rather than after you have already invested in changing it.  Let's talk about how to make it work for you.  
4. If I give you my phone number, will you keep calling me and trying to sell me something?
Nope. The phone number is so I can call you for your interview and Breakthrough Session.
One CEO discovered a strategy to quadruple her prospective ideal clients.
5. Who is Deberah Bringelson? Why should I trust her?
Award-winning, International Business Strategist and Empowerment Expert Deberah Bringelson is best known for negotiating the deal between Sir Richard Branson and Arnold Schwarzenegger with annual returns of more than $300 million for which she received the "Steal of the Year award".
Deberah both lives and teaches her philosophy that 

life is meant to be easy, joyful, abundant and fun

.  Utilizing the combined forces of her Power of 3 Formula, Deberah's clients achieve exponential success.

She is an author and has co-authored a book with Joe Vitale from the Secret.
Deberah's Innovative Success Mastery Power of 3 Formula uses Quantum Physics to grow businesses ....and lives.

 It combines practical, life-changing wisdom and magic to fuel your personal and professional success, unleashing your true potential and Maximizing your returns. Psssst!  One CEO used this formula to increase revenue 101%, another 3,500%!  What magic will you create?
 x
6. What Makes Profit Partners™ unique?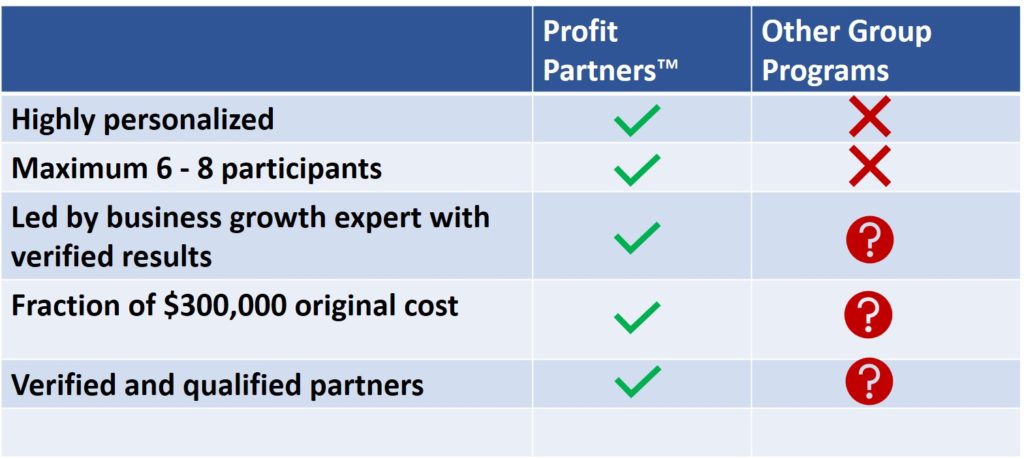 5 Critical Questions You Must Ask
BEFORE Joining a Mastermind
Does the leader have a proven track record of success?
Look for social proof and testimonials. Concepts and ideas can be great, but real expertise is learned from actually doing. Has your leader produced real results?
Has s/he done it him/herself?
If you are the CEO of a company and are looking to grow your company, you do not want someone fresh out of business school who has never actually been a CEO or someone who has "worked" at a lot of companies, but never actually run one.
How many people are in the group?
Six to 8 "masterminders" is an ideal size. It ensures that there will be depth in the group, but that your voice will be heard, your needs will be met and you will get the experience that you need.
Does the leader actually participate in the Mastermind?
It's common today for big names to sell their programs and then turn the running of it over to less experienced employees. Many coaching, consulting and mastermind programs have well known gurus in name only. Make sure that your mastermind is run by the professional and not a trainee.
Does the program combine a mix of teaching and experience?
Some group coaching and mastermind programs turn the discussion over to the participants, with very little guidance or information coming directly from the expert. When you pay for an expert, you want to be showered with their knowledge, experience and expertise. Make sure that your mastermind has a combination of teaching by the expert along opportunities for you experience and use that expertise in your own life and/or business.
FAST ACTION Bonus - First 3 Enrolled ONLY!
60 Minute Private 1-on-1 Consultation With Deberah Bringelson, one of the most profit-producing Financial Growth and Empowerment Experts In The World. 
Deberah will turn her full attention on you. Do you need help growing your business? Extra help clearing your personal blocks to money?
This is not a sales pitch. It's your time. Spend it any way you wish!
Business Growth Intensive - 5 week class - FREE 
Business Growth Intensive 
The 5 Week Business Growth Intensive™ class and all bonuses are included free to all Profit Partner™ members. Learn the strategies and secrets, taking them to a new level.
Bonus "5 Vital Secrets You Must Know To Master The Science of Creating"
Not available for purchase anywhere! 
Participant Comments:
Thank you for the 5 Vital Secrets. As a ritual my wife and read it out loud every morning. Then we reflect what the 5 secrets mean to each of us that day.

Game changer!

Thank you! ❤️

The 5 Vital Secrets to Manifestation

WORKS

. I manifested this week: knocked out an oncoming cold in less than 2 days (my second summer cold in 6 weeks) and filled the last spots on 2 retreats we were DESPERATELY trying to fill!
This no nonsense booklet explains the scients of manifesting in easy to read and understandable language.
One person grew their revenue from 
$56,000 to $13 Million
What Magic Will You Create?